​A fixed appointment with our experts
At Ligna 2023 our visitors will be able to meet as usual with our experts, who will be available for any kind of consultation and will advise them on the best sharpening solution according to your specific needs. Particular focus will be given to planer blades, carbide inserts, chipper blades, peeler blades and veneer blades, which are necessary for many stages following the initial processing of wood.
Cutting quality and excellence of the finished product.
In the wood industry, there are several processing steps that require different blades. These include band saw blades and veneer blades. For a precise and accurate cut, correct blade maintenance and regrinding is important. The SX80 band saw sharpener was developed to solve these specific problems. This type of machine reduces sharpening times and improves the sharpening quality of the band by extending its life.
In order to obtain quality veneer sheets, each sheet must be cut with the highest possible precision, so the veneer blade used for this operation must always be professionally sharpened. Precision that can be achieved on our model PX and KS250 grinding machines, which will be exhibited on the MVM srl stand.
MVM always looking to the future
As a leading company in the sharpening sector, we are proud to present this year's most important innovation at Ligna: the application of Augmented Reality to our grinding machinery. A new immersive experience for consulting user guides, which can also be used for training or maintenance purposes.
Make an appointment at Hall 027 Stand B55, therefore, where you will be able to find, as usual, the expertise of our professionals, our machines, and experience an exclusive preview of Augmented Reality applied to them.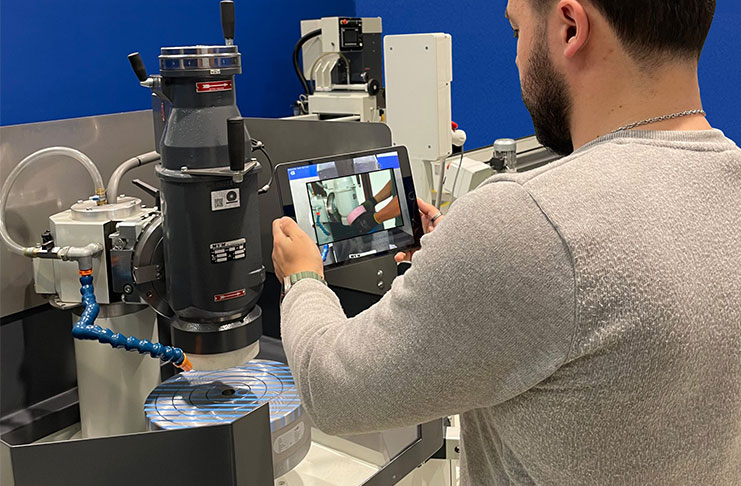 For more informations get in touch: mvmsrl@mvmsrl.it